Whether its clubs, kindergartens, school classes, or birthday parties: we can guide you through the ÖBG in groups of up to 25 people. For larger groups there are several guides available. In general, we offer our guided tours in German. A general garden tour can be booked in English (Contact).


General information:

The fee per group is €50, for school classes €40 (approx. 1.5 hours). Payment to be made in cash on site.
Guided tours can be booked individually, depending on the time and topic, provided that guides are available.
Registration by phone or email: Mrs. Heike Schwarzer, office of the ÖBG, 0921 552961 or by e-mail: obg@uni-bayreuth.de
---
Topic tour in English language: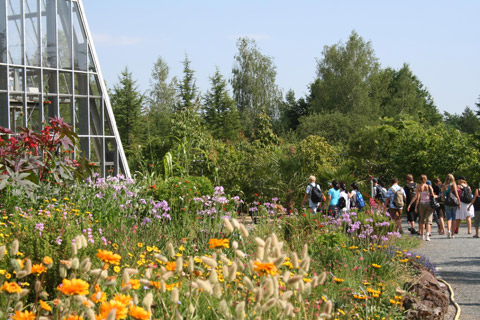 General Garden Tour

This guided tour through the ÖBG is a unique journey through the world of plants. The habitats of various climatic zones displayed in the ÖBG (e.g. tropical rain forests, the flora of Mediterranean regions, the prairies and forests of North America, the mountain vegetation of the Himalayas and the steppes of Central Asia) are shown to the visitors. In addition, the large crop plants garden and the Garden as a natural habitat for many animal species are presented. The Garden tour also serves to explain the function and tasks of the Botanical Garden to visitors.